PEOPLE AND CO. LTD.
---
Welcome to People and Co Ltd - International Recruitment Agency and more...
Based in Malta, People and Company Ltd. (also known as People & Co.) founded in 1994, is an international recruitment and employment agency offering all the best Full, Part-Time and Temp jobs available in Malta and Europe today. Serving both job seekers and companies in Malta with recruitment requirements, People & Co offer a professional, practical and personal approach to serve many employment sectors. 
We are also a development, training (People Learning) and business psychology consultancy with a global network of professional trainers and associates. A separate division offers data analytical services and we are IBM Silver Business Partners for SPSS, Data-Mining and Business Analytics.  
     
What is the job seeker process with People & Co?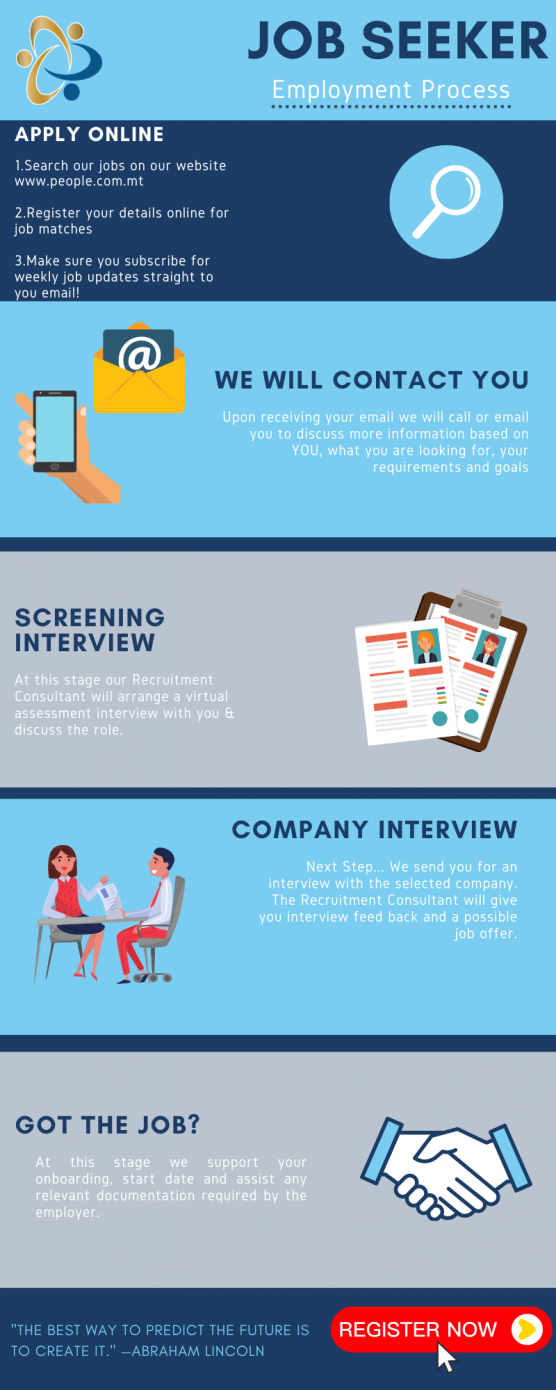 -Looking for a new talent or build on your workforce?
We have the experience, expertise and diligence to take job searches and talent searcher on a professional recruitment experience.
Our Services: 
---
---
---
---
---
Corporate Structure:
Recruitment (Permanent placements) - People & Co. Ltd.                                
Temping and Contracting Services - People Contracting Services Ltd.
Training Services and courses - People Learning & LearnQuest
Survey and Opinion -People Consulting
IBM-Business Analytics solutions -People and Co. Ltd. Data Services.

Don't take our word for it, learn what our clients have to say:
"From my experience working with Recruitment agencies, People & Co Ltd are surely at the top of the list when it comes to both service and communication. ....They identified our challenges straight away and they did the utmost to help us fill our positions. The dedication which they show to their clients transpires with every communication they send, and the fact that they send emails even during weekend days shows the passion of the team.
This was the first time we commissioned People & Co Ltd, and if the need arises it will surely not be the last time. "
- Vanessa Borg, Business Development Director - Booking & Co
''Pamargan Products (Malta) Ltd has approached People & Co. because we required assistance to recruit employees.  People & Co helped our company by advertising our vacancies and carrying out interviews.  The outcome of the process has been helpful to achieve the best possible.  One thing I liked was their continuous communication and feedback on each recruitment process.  I would recommend People & Co to entities who need support in recruitment.''
- Christabel Cutajar, Plant Manager - Pamargan Products (Malta) Ltd
"In the last week, I applied for the Administrator position. The agency was very professional. People from the agency were very nice and really interested to help you, offered a lot of advice on how to be successful. Highly recommended. Thank you Maria."
-Tatiana Malinowska- Candidate